Very Good Recipes of Green Bean from A Clove of Garlic, A Pinch of Salt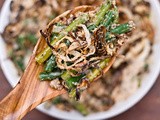 Can-Free Green Bean Casserole {Guest Post}
By A Clove of Garlic, A Pinch of Salt
11/17/11 00:37
You know what I love about this little (or rather large) food blog thing? I have discovered there are so many others out there like me -- people who are working hard to improve their food-lives. Many of them started out when they were young, but even more...
Add to my recipe book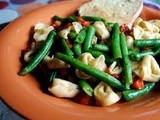 Tortellini with Green Beans and Tomatoes
By A Clove of Garlic, A Pinch of Salt
09/26/11 04:44
This was our lunch today. Three main ingredients (but sometimes we add an additional one). Fresh, healthy, and scrumpteous. Wanna know how to make it? It is really quite easy.  COST: $7.00 PER SERVING (4): $1.75 With bread and butter: $2.10 With chicken...
Add to my recipe book