Very Good Recipes of Horse from A Clove of Garlic, A Pinch of Salt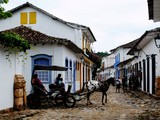 Paint, Cobblestone, and Horse-drawn Carriages... (Paraty, Brazil)
By A Clove of Garlic, A Pinch of Salt
Subscribe
04/03/12 22:28
Part way between Ubatuba and the city of Rio de Janeiro, right past the state line separating Sao Paulo state and Rio State, lies Paraty. This old, colonial city has a feel of its very own. Part of the town is like any other Brazilian city -- filled with...
Add to my recipe book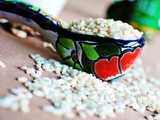 Getting back on the horse (as in "Getting back in the kitchen")
By A Clove of Garlic, A Pinch of Salt
Subscribe
02/24/12 02:16
After a week of no cooking, I am back at it. Good! Funny how a little over a year ago I would have been SOOO happy to be away from my kitchen for a week. Times are a-changin'. After our East Coast trip and getting over a cold I have not done anything I...
Add to my recipe book