Very Good Recipes of Pancakes from A Clove of Garlic, A Pinch of Salt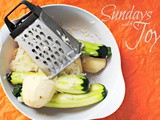 Potato and Zucchini (and Squash and Carrot) Pancakes
By A Clove of Garlic, A Pinch of Salt
07/25/12 07:51
Remember when I went to Vegas? Of course you do, because what I do is the highlight of your life, I know. So off to Vegas we went and to the kitchen I did not go. Not too shabby of a trade, but not so good for keeping up with my Sundays with Joy baking...
Add to my recipe book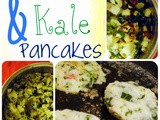 Mashed Potato & Kale Pancakes
By A Clove of Garlic, A Pinch of Salt
01/20/12 02:19
If you are a follower of this blog on Facebook, then you saw that I posted something the other day that went like this: Trying a new recipe right now. If it tastes even close to how I am imagining it will, then I am about ready to fall in love. And fall...
Add to my recipe book