Very Good Recipes of Pineapple from A Clove of Garlic, A Pinch of Salt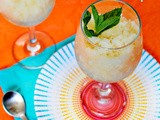 Pineapple with Mint Granita
By A Clove of Garlic, A Pinch of Salt
07/23/12 23:40
It's official. My husband likes peanut butter. Loves? Nah. But likes. All you Americans out there are like, "Well, duh!" It's also official... he had the ability to get sick of rice and beans. All you Brazilian readers out there are thinking, "WHAT???!!!"...
Add to my recipe book
Bringing in the Sunshine... (Avocado Pineapple Salsa)
By A Clove of Garlic, A Pinch of Salt
06/04/12 17:57
I love Summer time. I know it isn't officially Summer as far as the whole tilt-of-the-Earth goes, but for all practical purposes, it is Summer. Memorial Day Weekend? Check. End of the school year? Check. Fun plans and nice weather? Check and check. So,...
Add to my recipe book