Very Good Recipes of Cheese from A Year In Redwood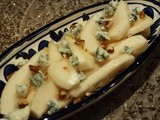 Pear & Blue Cheese
By A Year In Redwood
Subscribe
11/09/14 19:25
We've just had another rather busy week here in Redwood with more family visitors. On Wednesday night last we had an extra seven guests for dinner! It was time for some quick thinking…. main course was fine… I trotted out a couple of my quick and easy sausage...
Add to my recipe book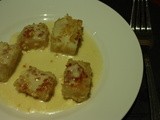 Celeriac with Blue Cheese Sauce
By A Year In Redwood
Subscribe
11/27/13 13:58
We love root vegetables in this house – carrots, parsnips, turnips are all popular but by far the top scoring is Celeriac. I've tried to grow it without success. One year I got beautiful foliage but no root…. this year it did not take at all. The only consolation...
Add to my recipe book