Very Good Recipes of Wheat from Ally's Sweet & Savory Eat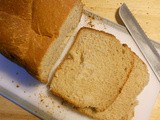 Homestyle Honey Wheat Sandwich Bread
By Ally's Sweet & Savory Eat
03/02/12 21:09
Last weekend I was out of bread. Not a huge deal with most families, but when your husband works nights, sleeps during the day and you have two little ones under foot, a quick trip to the grocery store sometimes seems just too much to bare. For bread. Out...
Add to my recipe book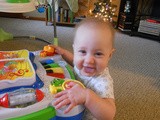 Honey Wheat Banana Muffins
By Ally's Sweet & Savory Eat
12/13/11 02:41
She's so tired in this picture, recovering from a cold...but still all smiles! I'm a lover of all things banana, and so is this little girl. Who also happens to be taking her first "crawling" steps and pulling herself up on everything, this toy included....
Add to my recipe book