Very Good Recipes of Pilaf from Around the World Vegan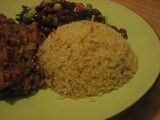 The best pilaf ever eaten
By Around the World Vegan
Subscribe
06/28/12 02:29
I have cooked and eaten a LOT of pilaf/plov/palov/pilau/paella/risotto/rice and other grain dishes since I started this blog and, of course, every recipe writer claims that theirs is the best in the world. On this occasion though, I think the … Continue...
Add to my recipe book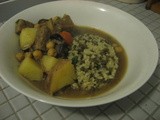 Stew and Pilaf and Salad
By Around the World Vegan
Subscribe
06/27/12 04:07
The first Armenian meal was a stew called Bozbash. I originally decided to make Bozbash after coming across praise for it in a book about Eastern European cuisine. This book, and several websites, identified Bozbash as an Armenian dish. I … Continue reading...
Add to my recipe book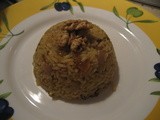 More Pilaf, Cabbage and a Salad
By Around the World Vegan
Subscribe
12/11/11 09:59
Pilaf with home made stock I have now real and followed so many pilaf recipes, that I'm actually getting pretty good at making my own. Success seems to lie in the stock. In Australia, I usually just use easy-peasy Massel … Continue reading →
Add to my recipe book