Very Good Recipes of Hash from Bobbi's Kozy Kitchen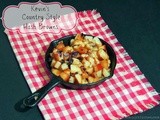 Kevin's Country Style Hash Browns
By Bobbi's Kozy Kitchen
03/05/14 16:02
Kevin and I have been together for almost 6 years now, and in that time I think I have made him breakfast a handful of times. Seriously, no joke. Why you ask? Well it is not because I don't want to, although my idea of breakfast time is closer to lunch...
Add to my recipe book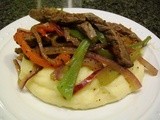 Super Mashers with Steak and Pepper Hash
By Bobbi's Kozy Kitchen
11/21/11 03:29
Since I missed my Rachael Ray Wednesday due to this lingering yuck I have, I went in search of a meal to fill that gap and found this one. I really liked the sound of this recipe. I mean it has peppers in it and I LOVE peppers! Any heat in a recipe is just...
Add to my recipe book