Very Good Recipes of Pea from Bobbi's Kozy Kitchen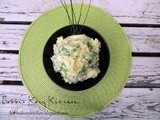 Mashed Potatoes with Peas
By Bobbi's Kozy Kitchen
05/30/13 17:58
I wanted to come up with something other than the same ol' mashed potato side dish for my Pork Chops with Mushrooms, Shallots, and White Wine Gravy. I had already done Creamy Mashed Purple Potatoes, which we loved, and Roasted Garlic Mashed Potatoes, my...
Add to my recipe book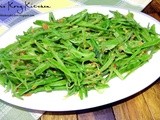 Tarragon Pea Salad with Shallot and Bacon
By Bobbi's Kozy Kitchen
09/13/12 22:58
I have missed having my own garden this year. The last year I just planted way to much and couldn't keep up with the weeds (in Washington they are hyperthyroid!!). Next year I am planning on doing some container gardening, but this year I have been lucky...
Add to my recipe book