Very Good Recipes of Curry from Dee's Kitchen deeksha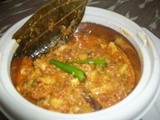 Masala Kathal (Jackfruit Masala Curry)
By Dee's Kitchen deeksha
07/25/13 12:15
Ingredients Jack fruit 350 gms (in pieces) Curd Half cup Lime Juice Half tsp Haldi Powder 1/4 tsp Red Chilly Powder 1/4tsp Bay leaf 1 Nutmeg Powder a pinch Greem chilly 1-2 Onion Chopped 1 Tomato Puree half bowl Cinnamon 1 small piece Green Coriander 1...
Add to my recipe book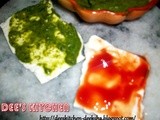 Switch Paneer Roll Curry
By Dee's Kitchen deeksha
03/15/12 21:49
Ingredients Paneer 200 gms Tomato sauce 1-2 Spoons Green Chutney 1-2 Spoons Tomato Puree 1/2 bowl Green Chilly 1 tsp (chopped) Cashew Paste 1 spoon Ginger garlic Paste 1 tsp Onion Paste 1/2 bowl Red chilly Powder 1/2 tsp Oil 1 Tbsp Whole Garam Masala 1...
Add to my recipe book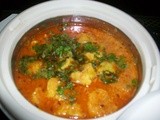 Methi Gatta Curry
By Dee's Kitchen deeksha
11/02/11 18:50
Blog Hop Wednesday - 8 Wednesday/Edition 2 This time my partner is Deepali of "Confusion Cook". I am a very big fan of Rajasthani cuisine & while browsing her blog I immediately book-marked Steamed Gatte Ki Sabzi from her blog. It turned out very tasty...
Add to my recipe book