Very Good Recipes of Greens from Edible Entertainment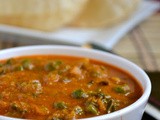 Green Peas and Palak Masala | Cooking With Kin #8#
By Edible Entertainment
Subscribe
03/18/12 09:56
This is Part - 2 of Gayathri's contribution to my CWK series. Check out her Poppy Seeds Poori in the previous post Ingredients: Green Peas-1cupSpinach/ Palak-1bunchOnion-2 medium sizedTomato-3 medium sizedOil-2tbsTurmeric Powder-1/2tspFennel Powder-1/2tspSalt-to...
Add to my recipe book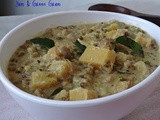 Yam & Green Gram in Coconut Gravy | Cookin With Kin #6#
By Edible Entertainment
Subscribe
03/10/12 01:30
Hi friends!! :) It has been 6 weeks since I started the Cooking with Kin series. And I am so glad to have made such wonderful friends who agree to do guest posts for me so that my blog doesn't remain dead while I go write exams! :-) One such good friend...
Add to my recipe book