Very Good Recipes of Corn from Everyday Mom's Meals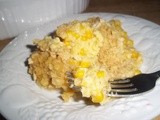 Grandma's Turn
By Everyday Mom's Meals
Subscribe
02/17/12 06:00
When it comes to pot luck dishes, and those the ladies in my family are famous for, I've already shared my deviled eggs and my mom's baked pineapple. Not, it's Grandma's turn in the pot luck spotlight. My grandma lives in Florida during the winter months...
Add to my recipe book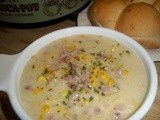 Hoosiers Love Corn
By Everyday Mom's Meals
Subscribe
02/06/12 06:00
"There's more than corn in Indiana." Yeah, yeah, I know there is, but his Hoosier girl loves her corn! And of course my favorite time of the year to enjoy it is fresh from the ground, from a local farmer during the warm summer months. So in winter I try...
Add to my recipe book