Very Good Recipes of Pea from FarmgirlGourmet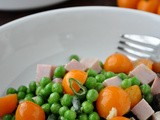 Pea, Tomato & Ham Salad
By FarmgirlGourmet
Subscribe
09/03/13 15:00
This is a sponsored post. All opinions are my own. As I get older and start listening to my body more and more, I know that when I eat a diet that is low in complex carbohydrates, with a low-glycemic index, I feel a million times better. It's true. My …
Add to my recipe book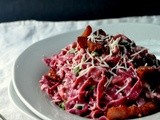 Beet Pasta Carbonara with Peas & Bacon
By FarmgirlGourmet
Subscribe
09/06/12 21:02
My garden is busting with beets. I will admit, I went a bit overboard this year. I grew Golden, Cylindra, Bulls Blood and Detroit Red beets. Not just 1 or 2 of each, but a whole packet of each. 50+ of each kind. After thinning, there aren't that many, but...
Add to my recipe book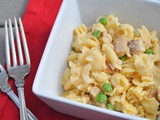 Mac & Cheese with Bacon, Caramelized Onions and Peas
By FarmgirlGourmet
Subscribe
04/14/11 23:30
If you have young kids in sports, then you will totally relate to this post. Yesterday, my teenager started Spring Softball. She's been practicing for the past couple of weeks, but they had their first game last night. Because we had to travel to another...
Add to my recipe book