Very Good Recipes of Egg from Frugal Antics of a Harried Homemaker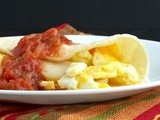 Egg Tacos
By Frugal Antics of a Harried Homemaker
04/07/12 06:01
> When I was a little girl, I never worried about getting enough sleep. Mom and Dad told me to go to bed, I huddled under the covers hoping that my bed posts wouldn't suddenly come to life, and went to sleep. (This is not a post about my neuroses) Next...
Add to my recipe book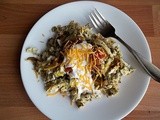 Eggs a la Southwest
By Frugal Antics of a Harried Homemaker
02/02/12 11:56
I will never be hired to name new products. I stared at these eggs while eating them and just could not come up with a clever name. I admire Tina from the Flourtrader blog. Her food has the best monikers. Well, never mind. These are some good eggs. And...
Add to my recipe book