Very Good Recipes of Goan from Home Made Recipes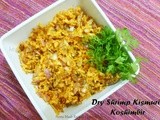 Dry Shrimp Kismur / Dry Prawns Salad - a Goan Delicacy
By Home Made Recipes
03/28/13 13:54
Goa is known for its delicious, mouth watering seafood dishes. For the seafood lovers like us, you will go crazy trying out different seafood Goan cuisine in Goa. You name a fish and you are surely gonna get it in the fish market there. This post is strictly...
Add to my recipe book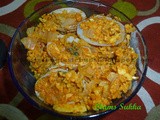 Clams Sukka/ Thisre Sukka - Goan Style
By Home Made Recipes
06/22/12 15:32
Had this mouthwatering dish called Thisre (or Thisro) Sukka in Goa prepared by my granny . Loved her style of cooking from years and the perfection she maintains till date. Love you Aayi for this...
Add to my recipe book