Very Good Recipes of Goan from Home Made Recipes
King Fish Fry - Goan Style (tava fry)
By Home Made Recipes
09/05/14 10:57
Fish Rava Fry - Gaon Style Think Goa! First thing comes to my mind is food especially seafood. We are just back from a much awaited Goa trip. My granny as usual prepared this delicious King Fish (Iswon) Fry and its curry soon after the Ganesh festival....
Add to my recipe book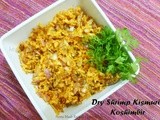 Dry Shrimp Kismur / Dry Prawns Salad - a Goan Delicacy
By Home Made Recipes
03/28/13 13:54
Goa is known for its delicious, mouth watering seafood dishes. For the seafood lovers like us, you will go crazy trying out different seafood Goan cuisine in Goa. You name a fish and you are surely gonna get it in the fish market there. This post is strictly...
Add to my recipe book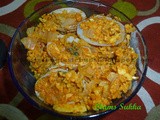 Clams Sukka/ Thisre Sukka - Goan Style
By Home Made Recipes
06/22/12 15:32
Had this mouthwatering dish called Thisre (or Thisro) Sukka in Goa prepared by my granny . Loved her style of cooking from years and the perfection she maintains till date. Love you Aayi for this...
Add to my recipe book