Very Good Recipes of Labneh from ...Ja u kuhinji...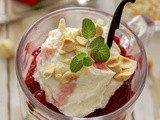 Jagode sa labneh-om
By ...Ja u kuhinji...
06/10/13 07:14
Još "onomad" kada sam prvi put pravila labneh učinilo mi se da bi se super uklopio u slatku varijantu. Ovog puta sam iskombinovala ono što sam imala "pri ruci" i jako smo zadovoljni rezultatom. Sinkić je čak rekao da odustaje od ideje da mu za rođendan...
Add to my recipe book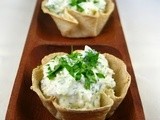 Salata od brokolija i labneh-a u korpicama od tortilja
By ...Ja u kuhinji...
10/13/11 07:14
Ovaj recept dugo stoji u draftu i čeka svoj trenutak ali ja kad god ga "vidim" setim se Mile i njenog prvog keteringa (koji je sjajno odradila) pa... možda dobije novu ideju za neki novi ketering :) Inače ova salatica se može nadograditi na hiljadu načina...
Add to my recipe book