Very Good Recipes of Jam from Juanita's Cocina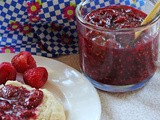 Strawberry, Raspberry, & Vanilla Bean Quick Jam…i'm Jammin'
By Juanita's Cocina
09/28/12 12:00
I have a confession. We had a meeting yesterday afternoon and I knew I wouldn't have time to cook dinner. We originally planned to pick something up from a fast food joint for dinner, but we decided against it in favor of getting home before dark. So, I...
Add to my recipe book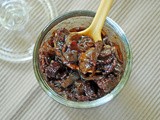 Bacon Onion Balsamic Jam…It's My New Jam
By Juanita's Cocina
08/08/12 12:00
This summer will forever be known as two things: the summer of the mustache and the summer that I found my jam. It's the "Summer of the Mustache" because our son, J, grew his first mustache. He's 16-years-old and he started off the summer saying he wanted...
Add to my recipe book