Very Good Recipes of Sea Bass from Laka kuharica - Easy Cook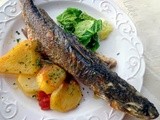 Male tajne: Pečeni brancin s krumpirom i hrskavim keljom :: Sea bass with potatoes and crispy savoy cabbage
By Laka kuharica - Easy Cook
Subscribe
03/06/14 15:20
Your family will love this different, healthy version of fish and chips. For the English version of the recipe go to allrecipes epicurious Cook Eat Share Prilično rijetko imam priliku domoći se svježeg brancina po nekoj pristupačnoj cijeni. Riba kod nas...
Add to my recipe book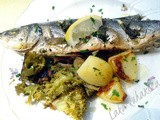 Brancin s komoračem i brokulom
By Laka kuharica - Easy Cook
Subscribe
07/05/12 08:00
Sea bass with fennel and broccoli: light meal full of Mediterranean flavors For the English version of the recipe choose Cook Eat Share Foo dista Allrecipes Nedavno smo proveli vikend uz stalne posjete Hitne pomoći: mojem mužu skočio je tlak, nije mogao...
Add to my recipe book