Very Good Recipes of Biscuits from Le régime selon nono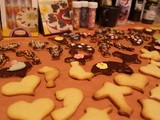 Recette de biscuit de l'Avent
By Le régime selon nono
12/15/13 11:17
En Allemagne, y'a pas que les calendriers de l'Avent qu'on kiffe, y'a aussi les dimanches de l'Avent et la confection de biscuits très chargés en beurre. Cette tradition de faire des biscuits tous les dimanches de Décembre je l'ai découverte en Espagne...
Add to my recipe book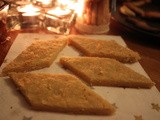 Biscuit au Romarin selon Nono
By Le régime selon nono
01/29/13 19:06
Voici une recette de biscuits pas comme les autres avec un petit goût léger de romarin et une pointe de sel. Je ne peux que recommander cette recette délicieuse ! Par contre, elle n' est pas tip top lorsque l'on est au régime…vous verrez qu' il s'agit d'une...
Add to my recipe book
Biscuits au citron selon nono
By Le régime selon nono
04/02/12 23:03
A l' occasion de son anniversaire, nono, qui a reçu du matériel de cuisine plutôt sympa de la DDR – RDA en français – ça sonne carrément mieux en allemand ! Des emporte-pièces en forme d'étoile, de lune un peu comme les emporte-pièces de Noël. Pour faire...
Add to my recipe book