Very Good Recipes of Cinnamon from Living Insanity's Loving Food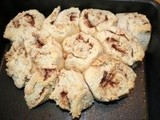 Paleo Cinnamon Rolls
By Living Insanity's Loving Food
05/12/13 04:38
I did not find this recipe to be sweet or doughy enough. I think with a few tweaks it could make maybe a good scone recipe.
Add to my recipe book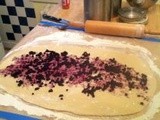 Blueberry Cinnamon Rolls
By Living Insanity's Loving Food
06/24/12 00:42
My husband has breakfasts at work. This time around he made blueberry cinnamon rolls and zucchini tots. He followed this recipe for dough and baking instructions. He used blueberry jam with whole Maine blueberries in the jam for the rolls filling plus some...
Add to my recipe book