Very Good Recipes of Christmas from louisabellissima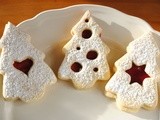 Linzer Christmas Tree Cookies
By louisabellissima
12/22/11 16:24
Here is a recipe for everyone who feels like doing some last minute Christmas baking. I have made these for many Christmas parties, school events and as teachers presents. They are also perfect as a table decoration for your Christmas lunch or dinner. Merry...
Add to my recipe book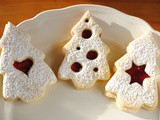 Linzer Christmas Tree Cookies
By louisabellissima
12/22/11 16:24
Here is a recipe for some easy and decorative Christmas cookies. Merry Christmas everyone ♥ You need: 600 g flour, 220 g icing sugar (plus some for decorating), 4 egg yolks, 1 tsp vanilla essence, 400 g butter, raspberry jam Combine all ingredients (except...
Add to my recipe book