Very Good Recipes of Teriyaki from Michele's Woman Cave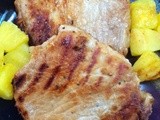 Teriyaki Pork Chops
By Michele's Woman Cave
09/30/14 18:00
Lots of flavor and tenderness are in these marinaded pork chops. I marinaded them overnight but it would also work to put it together in the morning so they are ready for after work during the week. Teriyaki Pork Chops 2-3 pork chops 1/2 cup pineapple juice...
Add to my recipe book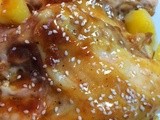 Baked Honey Teriyaki Chicken
By Michele's Woman Cave
02/16/14 00:47
If you need an easy to make meal, this recipe is for you. All you do is mixing the sauce together in a large liquid measuring cup (2 cup size) or a bowl, let it sit for a half hour and then pour it over chicken and put it in the oven. What could be easier?...
Add to my recipe book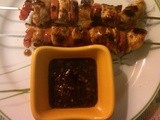 Peach Teriyaki Sauce
By Michele's Woman Cave
05/28/12 01:55
I wanted to try something different for my Sunday chicken dinner. I originally intended for this to be grilled outside but the weather did not cooperate (again). Peach Teriyaki Sauce 1 large garlic clove, finely chopped 1 tbsp olive oil 3 tbsp soy sauce...
Add to my recipe book