Very Good Recipes of India from My Weekend Kitchen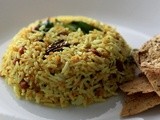 Raw Mango Rice – South Indian style
By My Weekend Kitchen
04/07/13 13:11
There is a huge mango tree in the house behind our apartment complex. One of our balconies faces their backyard where this mango tree resides and right now it's in full bloom with luscious green raw mangoes. The other day, the housekeeper of the bungalow...
Add to my recipe book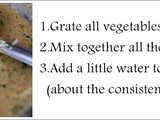 Healthy Indian Savory Crepe
By My Weekend Kitchen
11/03/12 05:30
This weekend I decided to try to my mother's healthy cheele recipe. Cheele are kind of an Indian version of savory crepes or pancakes (if you make them thicker but these are very thin). I have earlier posted about Besan ke Cheele (Gram flour savory crepes)....
Add to my recipe book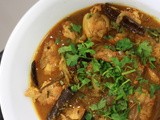 South Indian Chicken Curry
By My Weekend Kitchen
03/24/12 06:10
I saw this recipe on Masterchef Australia Season 3 (Gary's Master class). The first time I tried it, I put potatoes as there was no chicken at home that time. But when we tasted the gravy, it felt like it was made for meat! (not that it wasn't good with...
Add to my recipe book