Very Good Recipes of Meringue from Paula's Kitchen Table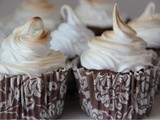 Chocolate, caramel & meringue muffins
By Paula's Kitchen Table
09/14/12 09:31
So Autumn is most definitely here. Cooler temperatures, leaves turning brown, temptation of turning on the heating and school starting all signals the end of summer. I use the word "summer" in very loose terms this year, the wettest one for 26 years in...
Add to my recipe book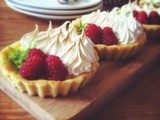 Passion fruit curd, lime, meringue & raspberry tart
By Paula's Kitchen Table
09/09/12 08:45
So there I was with two jars of passion fruit curd in the fridge, both of them literally screaming into my gluttonous belly "eat me, eat me"! I had to do something with them to prevent me tucking in with a spoon so I decided to make a few little tarts....
Add to my recipe book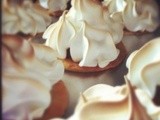 Lemon Meringue Pie
By Paula's Kitchen Table
03/13/12 23:32
In one of my first ever blog posts I featured a citrus curd tart which was essentially a posh name for lemon meringue pie. However in true 'newbie blogger' style I blabbered on a bit about how delicious it was and how much I loved it and I never even included...
Add to my recipe book