Very Good Recipes of Jam from ping's pickings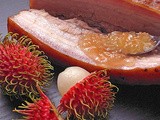 Rambutan Jam & Country Style Ribs
By ping's pickings
01/05/12 10:50
Is it rambutan season already? Gosh. Some folks feel the years go by from the changes in weather. In this part of the world, we get that from the fruiting seasons. And I believe we get rambutans twice a year. We have a huge old rambutan tree in the backyard...
Add to my recipe book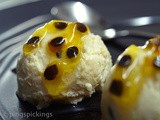 Passionfruit Jam Ice Cream
By ping's pickings
09/15/11 12:58
(Thank you everyone for helping get this to FoodBuzz Top 9) * I also realized that this was posted on 9/11. So I dedicate this post to those who had lost their lives or was hurt in the tragedy, to those who were involved in the rescue in some way or another...
Add to my recipe book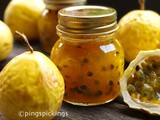 Golden Passionfruit Jam
By ping's pickings
07/26/11 13:45
Such a lot of fruit out there these couple of months. So many varieties, so many choices. Imported and local. They all look so gorgeous, so tempting. I keep buying and then find out there's no space in my fridge ... sigh. I mentioned about our homegrown...
Add to my recipe book