Very Good Recipes of Roasted from Preeti's Kitchen Life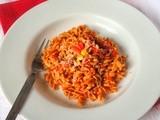 Pasta with Roasted Bell Pepper Sauce| Pasta Recipes
By Preeti's Kitchen Life
11/22/13 19:35
Pasta is a staple food of Italian cuisine, which served with lots of variations. Typically pasta is made from durum wheat flour or maida, but I prefer semolina based pasta to eat which is healthier than maida based. This pasta dish is really delicious and...
Add to my recipe book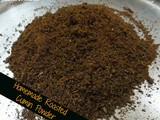 Homemade Roasted Cumin Powder
By Preeti's Kitchen Life
04/25/13 19:26
Cumin is very essential spice which used in various recipes of Indian cuisines, in whole and ground form both. Today I post homemade roasted cumin powder, which prepared by roasted jeera on hot tawa till to dark and grind it till to powder form. This recipe...
Add to my recipe book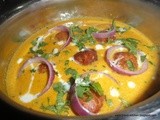 Cheese Ball In Roasted Tomato Gravy
By Preeti's Kitchen Life
01/25/12 08:25
Kofta can be fried,steamed, grilled according to what ingredients you added to the mix. I createdthis because it makes the soft, easily melt in the mouth kofta cover with thespicy-sweet sauce. Here gravyis combination of roasted tomatoes, cream and spices...
Add to my recipe book