Very Good Recipes of Bean from Priya's Versatile Recipes
Creamy Kidney Beans & Zucchini Farfalle
By Priya's Versatile Recipes
07/17/12 15:45
My kids can have pastas even everyday,they just love it with anything and anytime of the day. Farfalle is well known as bow tie pastas and dunno why they love this bow shaped pastas everytime. After spaghetti, they just love this pasta,i simply prepared...
Add to my recipe book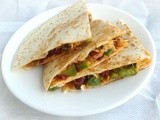 Kidney Beans & Bellpepper Quesadillas
By Priya's Versatile Recipes
07/12/12 23:39
I had some leftover store bought tortillas sitting since a long in my pantry, also their expiry date was not that much far away. Its quite an obligation for me to finish them as i dont like to trash anything that much easily. When i planned to finish them...
Add to my recipe book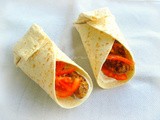 Mixed Beans Kabab Wrap
By Priya's Versatile Recipes
06/25/12 19:00
Most of our dinner goes for salads and sandwiches, needless to say i have to make variety of sandwiches to satisfy everyone's tastebuds at home. Obviously most of our sandwiches will definitely have veggies,cheese and very much rarely meats. Sometimes i...
Add to my recipe book