Very Good Recipes of Roasted from Quest for Delish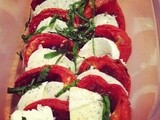 Roasted Tomato Caprese Salad
By Quest for Delish
09/26/12 16:21
One of my favorite things about living in NYC is how easy it is to get great buffalo mozzarella. Of course I wish I had the best of both worlds, great mozzarella and tomatoes and basil growing in my garden. So for now I just have to take advantage of the...
Add to my recipe book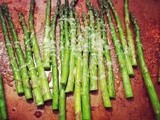 Roasted Asparagus
By Quest for Delish
04/09/12 17:12
I didn't start liking asparagus until I was 19. Now I eat it like it is chocolate. One of my favorite ways to make it is to roast it in the oven with a little Parmesan cheese melted on top. My little Brody loves it just as much as me. The best part is the...
Add to my recipe book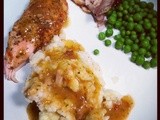 Roasted Chicken
By Quest for Delish
02/02/12 01:33
After many failures finally figured out how to roast a chicken to perfection. After I thought I couldn't make it any better, I stumbled across a blog called She wears many hats and found a roasted turkey with mayo that knocked me off my chair. I decided...
Add to my recipe book