Very Good Recipes of Honey from Savoring Every Bite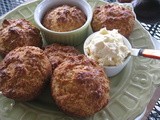 Warm Orange Honey Biscuits with Orange Mascarpone Spread
By Savoring Every Bite
01/20/12 15:16
Whenever my daughter comes home for a visit, cooking and baking doubles! Not that she eats that much but rather I like to send her off with lots of love, and in my world that means, food! And along with that, I also like to make special meals we can share...
Add to my recipe book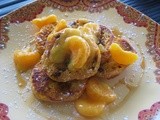 Grand Marnier French Toast with Honey Orange Syrup
By Savoring Every Bite
01/14/12 20:07
Weekends are my luxury time. Waking up without an alarm and having coffee in bed totally pleases me. Being able to join me in bed is pure bliss for my chihauhaus as they sleep in a cage and only allowed in to cuddle with me on these lazy weekend mornings....
Add to my recipe book