Very Good Recipes of Egg from Savory Moments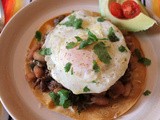 Mexican spiced bean and egg breakfast stacks
By Savory Moments
03/20/12 11:40
When I saw Marx Foods was having a Beans for Breakfast recipe contest, I was excited because around here we love our hearty breakfasts, especially on the weekends. I think beans are a great way to incorporate protein into your breakfast and to make it filling...
Add to my recipe book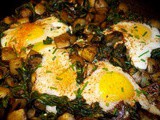 Potato and Swiss chard hash with eggs
By Savory Moments
06/06/11 15:41
Words cannot explain just how much I love a hearty brunch filled with eggs and potatoes. It reminds me a lot of when I was a kid and my grandfather would make me breakfast when I stayed over at my grandparent's house. His breakfasts were always huge and...
Add to my recipe book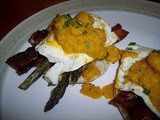 Eggs, bacon, and asparagus with a roasted yellow pepper sauce
By Savory Moments
05/25/11 14:49
Eggs Benedict are one of those breakfasts that I've always enjoyed and have only ever eaten out at a restaurant. This breakfast was something I threw together (well, not really threw, because it was rather time-consuming) after we came back with some fresh...
Add to my recipe book