Very Good Recipes of Cinnamon from Southern Mom Cooks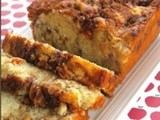 Apple Cinnamon White Cake
By Southern Mom Cooks
05/17/14 15:00
Preparation: 20 min - Cooking: 30 min Who used to watch The Little Rascals on TV as a kid? Well they have a new movie out on DVD and Blu-ray called The Little Rascals Save the Day! Looks very cute and a great family friendly movie. In the spirit of the treasured Our Gang comedies, The Little...
Add to my recipe book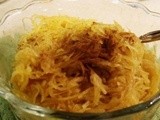 Cinnamon Spaghetti Squash Recipe
By Southern Mom Cooks
03/22/12 13:41
From Minnie: We finally decided to try a sweet version of spaghetti squash…and we absolutely LOVED it! We really like spaghetti squash with a spaghetti sauce served over it…and hubby really likes spaghetti squash served with a bit of olive oil, garlic,...
Add to my recipe book