Very Good Recipes of Spinach from The Southern Lady Cooks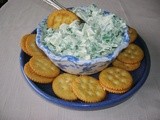 Creamy spinach dip
By The Southern Lady Cooks
03/15/12 13:11
We love this dip. I can't get enough of it and it does not last long at my house. This dip is good with anything. I have even put it on baked potatoes! Fresh Spinach (Enough to make 2 cups of chopped spinach) 2 tablespoons green onion, finely chopped 1...
Add to my recipe book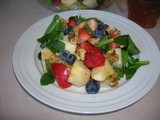 Fruity spinach salad with poppy seed dressing
By The Southern Lady Cooks
03/10/12 14:44
Spring is the time of year when I start craving fruit salads. This spinach and fruit salad is a favorite of my family. 2 to 3 cups fresh spinach 1 cup strawberries, cut in pieces 1 cup blueberries 1/2 cup walnut pieces 1 large apple, chopped 1 large pear,...
Add to my recipe book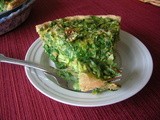 Spinach bacon quiche
By The Southern Lady Cooks
03/04/12 12:40
My family loves quiche and we especially like this one. The bacon combined with spinach and cheese makes this a great dish and an easy fix, too. 1 (10 ounce) bag fresh spinach, finely chopped 1/2 cup onion, chopped (can use green onions) 4 eggs 1/2 cup...
Add to my recipe book