Very Good Recipes of Stir Fry from What Is Cooking Now?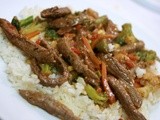 Beef Stir Fry with Rice
By What Is Cooking Now?
08/07/11 04:47
Since having moved, I hadn't used my wok in the new place. I bought the wok for about five dollars at a thrift store. I had to put a little bit of tender, loving care into getting it back into a good condition to use without worrying. It has paid off greatly!...
Add to my recipe book