Very Good Recipes of Sweet potatoes from 365 Days of Baking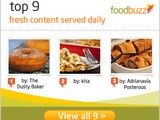 Day 309 - Sweet Potato Crisps
By 365 Days of Baking
01/12/12 06:33
I'll have pictures up tomorrow. Tonight I made Sweet Potato Crisps. Short, but sweet. Ok, not really sweet as in brown sugar sweet, but more like savory. Adapted from Epicurious. Sweet Potato Crisps - makes about 25 2 large sweet potatoes (about 1 pound)...
Add to my recipe book
Day 271 - Molasses Glazed Sweet Potatoes
By 365 Days of Baking
11/25/11 06:10
I hope you had a most wonderful Thanksgiving with your family and/or friends and of course, that you had a most delicious meal. I'm exhausted... And VERY full! Here's a picture of our bird. I finely chopped about 1 tablespoon each of fresh rosemary and...
Add to my recipe book