Very Good Recipes of Enchilada from Amy's Cooking Adventures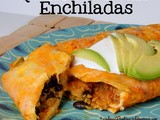 Quinoa & Black Bean Enchiladas
By Amy's Cooking Adventures
Subscribe
02/18/13 14:30
Oh my gosh you guys. I almost didn't have a Meatless Monday recipe to share today. I planned to make Rice & Bean Enchiladas, but yeah, only a handful of rice in the whole house. Then, after I had bundled both of my boys up to race to the store for rice,...
Add to my recipe book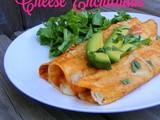 Simple Cheese Enchiladas
By Amy's Cooking Adventures
Subscribe
06/22/12 14:30
Sometimes the simplest things are the best. I have made so many enchilada recipes and do you know how many I've posted? None. Most of the recipes I've tried have come out with super soggy tortillas after soaking in enchilada sauce. I don't like soggy tortillas....
Add to my recipe book