Very Good Recipes of Pork Roast from Amy's Cooking Adventures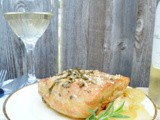 Slow Cooker Rosemary Pork Roast
By Amy's Cooking Adventures
01/10/15 13:00
When things get crazy with school and sports and other evening commitments, I rely on the slow cooker! Really, I should use it more often, but I forget. Actually, I usually forget to thaw the meat I have squirreled away in the freezer. The roast was so...
Add to my recipe book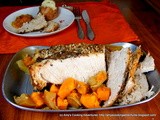 Crockpot Pork Roast with Apples & Sweet Potatoes
By Amy's Cooking Adventures
11/14/11 19:00
Fruit and meat. I don't know, why, but this is a very difficult concept for me to wrap my head around. Maybe it's because I'm not a huge fan of cooked fruits. Or maybe because I love the salty and savory flavors associated with meat. Despite my reluctance...
Add to my recipe book