Very Good Recipes of Food from Bankrupt Vegan
There are 3 Food recipes on the blog Bankrupt Vegan. (2875 on all the blogs)
Click on the title of a recipe or the photo of a dish to read the full recipe on its author's blog.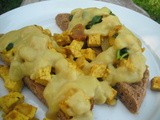 Awesomesauce Food Porn
By Bankrupt Vegan
05/02/13 03:49
Ever since the introduction of AwesomeSauce into our home, I have put that stuff on every freakin' bite of food that will stand still in my kitchen. I am so in love with it! To prove it, I've snapped a few photos for ya. Maybe this will give you some ideas...
Add to my recipe book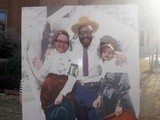 A Junk Food Vegan No More
By Bankrupt Vegan
03/22/13 19:27
Let's wrangle them thar' carrots, partner! Hoo boy! That was a short hiatus. It didn't take long for the blogging bug to start biting me in the butt again. I am not back on Facebook or any of that stuff, so I'm staying good to my word there, but man I sure...
Add to my recipe book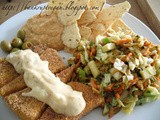 Awesome Vegan "See Food" Feast
By Bankrupt Vegan
11/13/11 03:10
Being a Southerner, I pretty much grew up on my Mee Maw's fried catfish. And I have a particular fondness for the flavor of seafood because I met my husband in the seaside town where I attended college (a city we lovingly refer to as the "armpit of the...
Add to my recipe book