Very Good Recipes of Valentine from Building Buttercream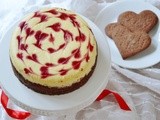 Raspberry Cheesecake (a Late Valentine's Day)
By Building Buttercream
02/17/13 20:46
Whew! My husband and I are mostly moved into our new house...mostly. Well, at least we've unpacked essentials like pillows, blankets, the computer, the cat, and the Kitchenaid. I'm getting used to the new kitchen, which has a gas oven instead of an electric...
Add to my recipe book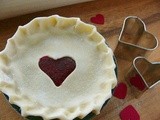 Valentine's Day Raspberry Mini Pies
By Building Buttercream
03/07/12 18:30
I attempted to keep these mini pies a secret from my husband until Valentine's Day. The plan was to make them the weekend before, freeze them, and then sneak home from work during lunch to bake one on Valentine's Day. This mostly worked. Unfortunately,...
Add to my recipe book