Very Good Recipes of Mustard Seed from Cook Food. Mostly Plants.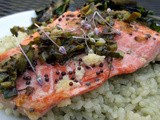 Ginger-Rubbed Salmon with Mustard Seeds and Sorrel
By Cook Food. Mostly Plants.
06/29/12 23:26
Quick, easy, and stupendously delicious...hello, salmon season. I've missed you. Serve this over jasmine rice or jade pearl rice, with sauteed greens on the side. Ingredients 12 oz wild salmon Kosher salt Freshly ground black pepper 2 tsp grated fresh ginger...
Add to my recipe book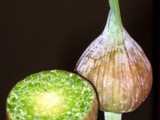 Mustard Seed Salmon with Garlic Blossoms and Parsley Butter
By Cook Food. Mostly Plants.
05/28/11 05:48
Our house guests this week brought fresh-caught salmon with them (which we think all future house guests should take as a challenge), and our produce box sent the scapes and tops from young elephant garlic. Good things were bound to happen. To use the blossom-filled...
Add to my recipe book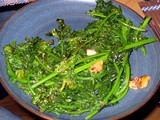 Arugula Rapini with Garlic and Mustard Seeds
By Cook Food. Mostly Plants.
03/30/11 19:18
I suspect this would work with any green mystery vegetable. Certainly broccolini would go well (but note that it will probably take a few more minutes to cook until tender). If you do find yourself with a bunch of arugula rapini, do this with it. Because...
Add to my recipe book