Very Good Recipes of Blueberry from Delectable Musings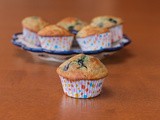 Quinoa Blueberry Lemon Muffins {Gluten Free}
By Delectable Musings
10/02/12 16:47
Preparation: 10 min - Cooking: 25 min Quinoa blueberry lemon muffin The lazy summer mornings of custom ordered breakfasts from Mom's kitchen are past now and we are on to the fire drill mode of school days. This means for me that I am trying to get as much healthy fuel into the kids at breakfast...
Add to my recipe book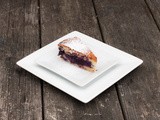 Blueberry Ribbon Cake
By Delectable Musings
06/07/12 09:01
Blueberry ribbon cake Ok, so the title is a little bit misleading. That fat layer of blueberries in the middle is definitely not a ribbon, more like a cummerbund. I couldn't see Blueberry Cummerbund Cake rolling off the tongue very easily though, so I will...
Add to my recipe book