Very Good Recipes of Pancakes from Dinner at Christina's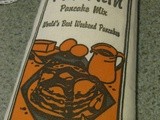 Weekend Pumpkin Pancakes
By Dinner at Christina's
Subscribe
10/02/11 01:09
I grabbed this at a gift shop while Johnny and I were in Sleepy Hollow, NY last weekend. It was all decorated for fall and Halloween, so really I couldn't resist. Plus, you could smell the spices through the bag, tempting you to take it home and make them....
Add to my recipe book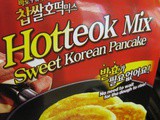 Korean Pancakes
By Dinner at Christina's
Subscribe
06/19/11 23:05
When I opened the box from Sophia, this was one of the things I was most excited about. To be honest, I didn't really know what to expect. I saw "Hot" and I saw "Sweet." I thought it would be like a sweet batter with a spicy filling. The photos on the back...
Add to my recipe book