Very Good Recipes of Lemon from Feasts for All Seasons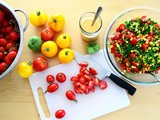 Succotash Salad with Whole Lemon Vinaigrette
By Feasts for All Seasons
09/16/13 00:09
You're likely sick of hearing how to use up this summer's tomatoes. I'm sorry to go on and on, but tomato recipes are not only perfectly fitting considering what gardens and farmers' markets are bursting with but around here they … Continue reading → The...
Add to my recipe book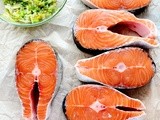 Grilled Salmon with Lemon and Garlic
By Feasts for All Seasons
05/14/13 10:00
I have a confession of sorts. It may not come as that much of a surprise, but I pretty much philosophically believe that most things, savoury things, are easily improved with the addition of olive oil, lemon zest and garlic. … Continue reading → The post...
Add to my recipe book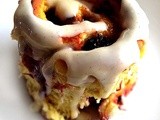 Lemon Blackberry Sticky Buns
By Feasts for All Seasons
07/15/12 03:07
You know how it is said that in our last moments, our lives flash before our eyes? Imagine that's true – what snippets of your time here will you want on that last, final film reel? Sometimes, in beautiful, … Continue reading →
Add to my recipe book