Very Good Recipes of Sweets from Few Minute Wonders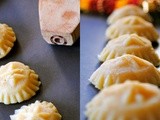 Microwavable Sweet Cream Fudge / Palgova
By Few Minute Wonders
11/02/12 02:40
Sometimes mistakes lead to something unexpected. Last Saturday, I was on the way to preparing Tiramisu and totally goofed up with the whipped cream. I did not know what I was thinking, when I added sugar to the cream that my daughter and niece were taking...
Add to my recipe book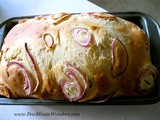 Chaat Bread: Savory Bread With Sweet And Spicy Chutney
By Few Minute Wonders
06/06/12 21:49
Remember, one of my new year's resolution was to learn to bake bread? Well! I have been working at it by baking bread often and learning a few techniques here and there. Since the Cilantro onion bread, I had not felt that the breads I made were blog worthy....
Add to my recipe book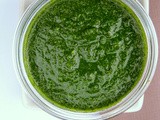 Three Chaat Chutneys: Mint Chutney, Sweet Chutney & Garlic Chutney in 20 Minutes
By Few Minute Wonders
02/29/12 22:36
A staple in my fridge these days are the three chutneys. We love chaat in our family and love to had pain puri and bhel anytime. Its very simple to make the chutney and store because it gives you the option to have chaat any time. The mint chutney is highly...
Add to my recipe book