Very Good Recipes of Spicy from food and thrift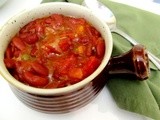 Spicy Red Bean Stew
By food and thrift
05/11/12 20:42
Do you sometimes just browse through blogs, from other blogs, by just clicking over to a blog with s "shout-out?"...well, I do that quite a lot lately, and get so distracted with what I was originally set out to do. I was recently commenting on a blog...trying...
Add to my recipe book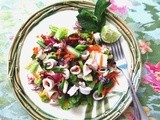 Spicy Thai Squid (Calamari) Salad
By food and thrift
03/21/12 18:39
When it comes to being sick, I'm the worst person that I know, and even; the worst "patient" that I know! My family can't stand to be around me, I'm so grouchy, irritable, and miserable! Yes, it's all true!...sad to say, but it is! Last Sunday, the day...
Add to my recipe book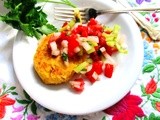 Hot-and Spicy Chickpea Cakes with Pico de Gallo...and Guest Post
By food and thrift
01/31/12 15:18
I am so honored to guest post for my dear friend Swathi, @Zesty, South Indian Kitchen... who at this time, needs all the rest she can get. Glad to know she also has a few other blogger friends that will guest post for her, while she is recuperating. She...
Add to my recipe book