Very Good Recipes of Lunch from Gayathri's Cook Spot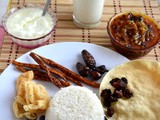 Manathakkali Vatha Kulambu and a Simple Lunch
By Gayathri's Cook Spot
04/29/12 14:30
I am totally exhausted after 6 days of thali preparation. Whenever I return from hostel, I ask my mom to prepare vatha kulambu and fry appalam to go with it. This may sound simple but the tangy and bitter kulambu is a great savior after eating the mess...
Add to my recipe book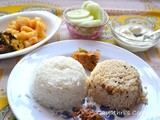 Simple Lunch
By Gayathri's Cook Spot
04/27/12 01:27
Today is a simple lunch which includes my daughter's lunch box dishes and a stir fry for us. She took mangai saadam to school along with her potato stir fry. I prepared the potato to suit her taste. We had it along with bitter gourd roast. There was a bowl...
Add to my recipe book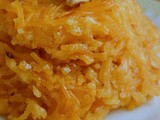 Foodbuzz 24*24-Virundhu-Traditional South Indian Lunch
By Gayathri's Cook Spot
02/26/12 08:57
There was an announcement to all Food Buzz Featured Publishers, inviting for proposals for their monthly event Foodbuzz 24*24. The blogger must give a meal plan for some guests and if selected the post will be up in that particular section. To try my luck,...
Add to my recipe book