Very Good Recipes of Asparagus from Kitchen Goddess (in training!)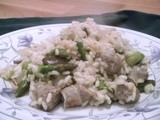 Sausage and Asparagus Risotto
By Kitchen Goddess (in training!)
Subscribe
11/29/12 11:38
Creamy Sausage and Asparagus RisottoI bet every single one of you can look in the fridge on a weekly basis and find that ONE thing you seem to buy no matter what. No matter how dedicated you are to meal planning, and using up everything so that you don't...
Add to my recipe book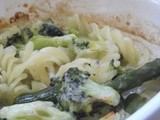 Creamy Stilton Pasta with Garden Greens
By Kitchen Goddess (in training!)
Subscribe
05/26/12 11:24
Hello my lovely blog readers! I am back! After nearly a month of killing myself over my final law exams I am finally finished! Now, that's not to say I'm never going to look a case again, to the contrary! I've already started hunting down extra reading...
Add to my recipe book