Very Good Recipes of Aubergines from Kitchen Goddess (in training!)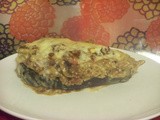 Stuffed Aubergines with Bechamel Sauce
By Kitchen Goddess (in training!)
Subscribe
11/17/11 19:02
This has to be one of my favourtie recipes! Pefect for sharing with someone special, this dish is quick and easy to make at the same time as being very very tasty. Sometimes it can be hard when you look in your fridge/freezer to come up with new and interesting...
Add to my recipe book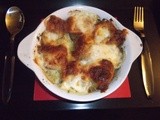 Aubergine and Pesto Bake
By Kitchen Goddess (in training!)
Subscribe
09/21/11 21:47
I learnt an interesting fact today while my dinner sat inthe oven, the delicious smell of aubergine, tomato and pesto wafting through tomy lounge – aubergines (also known as eggplant in America), are NOT a vegetable,in fact they are a berry! People are...
Add to my recipe book