Very Good Recipes of Beef from Kitchen Goddess (in training!)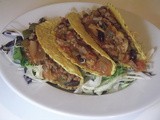 Slow Cooked Beef Tacos
By Kitchen Goddess (in training!)
01/27/12 17:15
I am a big fan of spice and usually this shows in my cooking in the form of India food. I even have my own mix of spices in a jar labelled "Emma's Garam Masala" in my cupboard much to my friends and family's amusement! However, last year I began experimenting...
Add to my recipe book
Beef Chilli
By Kitchen Goddess (in training!)
11/24/11 19:14
Any students out there in need of a winter warmer? Then this chilli is for you! If you like it hot, turn up the heat and add more chilli, if you like it cool, why not serve with a dollop of sour cream? You may notice that the recipe does not include kidney...
Add to my recipe book