Very Good Recipes of Sésame from Kitchen Goddess (in training!)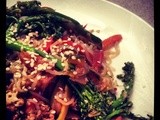 Tenderstem and Tofu Sesame Sti Fry
By Kitchen Goddess (in training!)
09/07/13 14:16
Tenderstem Broccoli and Tofu Sesame Stir Fry Well that was a lot of alliteration for one blog post title!!! My family of primary school teachers would be very proud – but they're all too busy focussing on school work now that it's the beginning of term!...
Add to my recipe book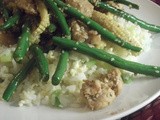 Celebrate Chinese New Year with Sesame Chicken and Green Beans with Egg Fried Rice
By Kitchen Goddess (in training!)
01/24/12 19:28
Happy Chinese New Year!...Still! only another 14 days of celebrating to go! Though I'm afraid this will be the last Chinese themed post from me in a while! Though, I am proud to say that this dish is perhaps one of the tastiest Chinese dishes I have ever...
Add to my recipe book