Very Good Recipes of Black from Life and Kitchen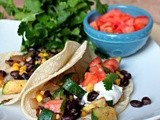 Zucchini Black Bean Tacos
By Life and Kitchen
05/17/13 13:46
Can I talk one more time about how I'm ridiculously excited for summer produce? The CSA, the farmers' markets, and the little plot of land that we are sowing in our back yard are soon going to fill the kitchen. We haven't actually sowed the garden (I say...
Add to my recipe book
Panera Copy-Cat Black Bean Soup
By Life and Kitchen
12/19/12 03:50
So.many.cookies. So.much.chocolate. December.is.a.huge.sugar.coma. Which is why I was so excited to try Panera's black bean soup last week. It's healthy, warm, filling, and has a good complexity of flavors. Which, in these sweet-filled times, is a breath...
Add to my recipe book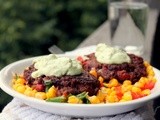 Black Bean Patties with Corn Relish and Avocado Cream
By Life and Kitchen
07/13/12 12:26
The biggest difference between Boston and Pittsburgh: the drivers. What the heck is up with these people slamming on the brakes when the light turns yellow?! My commute is over [...]
Add to my recipe book